Need help with your crack repair?
The Crack Stitch features patented ReGrid technology developed by Fortress.  The Carbon Fiber / Kevlar® open grid design creates a bond far stronger than any other product on the market, insuring your cracks will never re-open. The Crack Stich is non-corrosive and extremely simple to install.
Crack Stitch

Strength & Simplicity.
The Crack Stitch installs with just a single saw cut per stitch, which can be performed with a standard circular saw and concrete blade. Fill the cuts with epoxy, insert the stitch, and your crack will never open again.
Installs in minutes, lasts a lifetime!
2X The
Strength
Concrete pull testing in a certified lab verifies a guaranteed strength of 2-4 times the strength of competitive products. 
1/2 The
Cost
The Crack Stitch is made in the USA though a proprietary process that minimizes costs and reliance on third party suppliers. This allows us to keep our cost to you at half of what competitive products cost. 
1/2 The
Time
The Crack Stitch installs with just a single saw cut, reducing your labor by 50% or more! 
Concrete Crack Repair

with Crack Stitch.
If you're looking for concrete crack repair supplies, there's nothing better than the Crack Stitch made by Fortress Stabilization Systems. For over 20 years, Fortress has been a leader in manufacturing the best materials for concrete crack repair. Our network of professional contractors can provide you with a full line of concrete crack repair services including crack stitching, crack stapling, and crack injection.
Crack Stitch is ideal for:
Sidewalks and driveway cracks

Basement and foundation slabs floor cracks

Basketball court and tennis court cracks

Any cracks in poured concrete, block, masonry, or brick!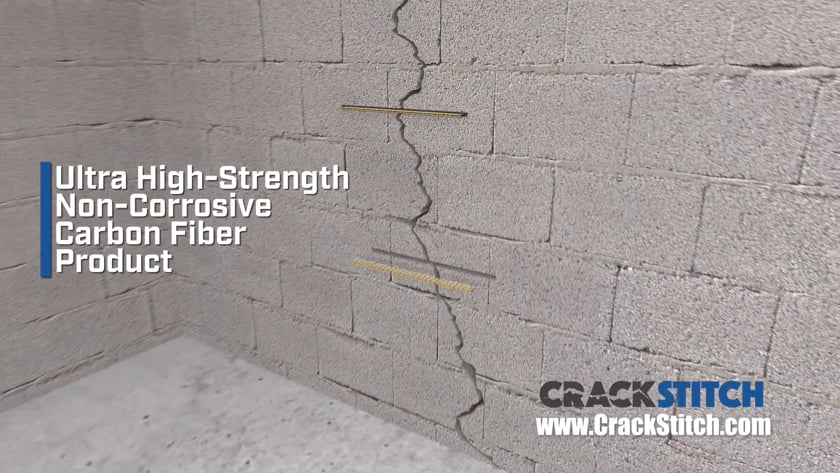 The Benefits of the Crack Stitch and
Fortress crack repair supplies include:
Ultra high strength carbon fiber that will never break under tension

Non-corrosive carbon fiber will not rust when exposed to water

Rapid installation requiring just a single saw cut and easy epoxy application

Lifetime warranty when installed by a crack repair professional